OMG – *squueeeeeeeeaaaal* HOKKIEN MEE!! In Tokyo! The eatery is called Yacman and it serves theirs up Thye Hong style (the chain that appears in Wisma Atria's Food Republic and Jurong Point).
One of my students told me about this (she has a passion for Singaporean food) and I had to try it. She even sent me the link to the Straits Times article online.
There are basically just two things on the menu and that's Hokkien mee and Tiger beer.
How was it? I think it was pretty authentic and I was so thrilled to have this for lunch. I fly back to Singapore two to three times a year so it was such a treat to have something familiar, spicy, and TASTY…
Though if you want to split hairs, the sambal chilli is not that spicy and is even on the sweet side and is less pungent to suit Japanese tastes. The noodles were honest-to-god yellow noodles and chor bee hoon (thick rice vermicelli) and the sauce was to-die-for. There are no slivers of pork and only bits of squid and you have to order a topping of shrimp (costs 200JPY) to get four and you have to pay to get more sambal chilli (150JPY). In all, I paid 1200JPY (SGD19.20) for this plate of deliciousness.
They fry it up in a huge metal wok in front of you.
Instructions on how to eat Hokkien Mee which is very Japanese when it comes to foreign food. Basically, it just explains that lime and sambal chilli enhance the overall flavour of the dish and what sambal chilli is.
If you go to Hainan Jeefan in Ebisu, you would find instructions on how to eat chicken rice on the paper placemats with pictures included. Hilarious but I suppose it's necessary if you are trying to introduce something so unknown to Japanese.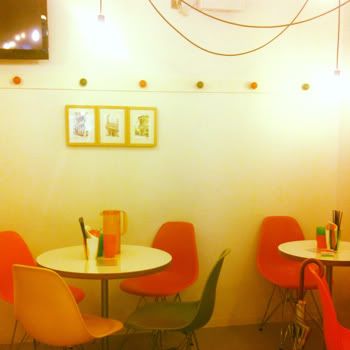 I love the cheery orange and green decor and I would advise you to get there at least before 230pm because I was turned away at 3pm once.
Do spread the word to your Singaporean friends in Tokyo!!