Although I have quite a lovely track to run along the Meguro River, the Imperial Palace is still one of the best running places in town. The uninterrupted 5km path is just perfect for training and the scenery is always gorgeous and certain spots are always breakthtaking no matter what, like the giant bonsai zone just after Sakuradamon.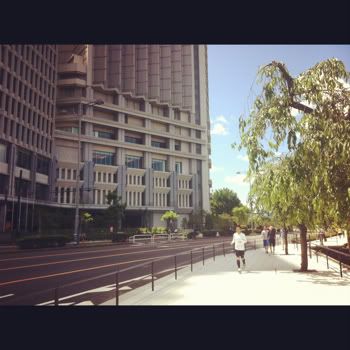 This time we met near the Takebashi station stop and the path was refurbished into swish modern concrete.
After a 5km time trial run and then a leisurely 5km to wrap up the morning, we headed to Chaya at Hibiya Chanter for a healthy veggie lunch — I got the brown rice plate set, or genmai plate, that came with a lovely creamy veggie soup, and deep fried soy nuggets (not so healthy haha but…) with a tart onion sauce.
It was a fabulous start to a Sunday because it rained and rained in the afternoon.