There's a tiny sushi restaurant on a street adjacent from where we live and it's one of those gems I'll tuck up my sleeve to show visiting friends and family. We had to entertain one of the kangaroo's new colleagues so we went there for dinner a few Sundays ago. We had to run some errands and poked around our hood to see if there are any new and interesting places. In the end, we chose this sushi bar because it seemed like a "must-experience" because tapas, Chinese, Italian all seemed like disappointments for a first-timer in Tokyo.
We sat at the counter so we all got the "sushi-bar treatment", i.e. we each had a black wooden tray with ginger, a bit of seaweed, and slivers of raw fish and sushi were quietly deposited in front us at a laid back pace.
The sushi chef asked us if we had any special requests but we said we would take whatever he gave us. And did he pull out all the stops. The ikura sushi was salty with a hint of sea breeze and the uni was so fresh and creamy, but the kangaroo got the heebie jeebies and I scored an extra uni sushi…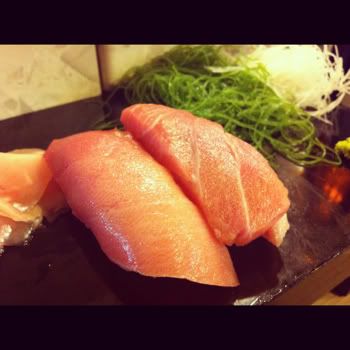 The otoro sushi was outstanding and all of us just went, "Mmmmmm this is so goooood…"
A father-and-son team runs this hidden neighbourhood joint and regular customers seem to be their clientele — they spoke in a familiar way with each other and one table had a birthday so out came a bottle of special sake with some lively conversation.
Sorry, I don't know the name and contact details of this awesome place, but if you are lucky, I'll take you there someday.