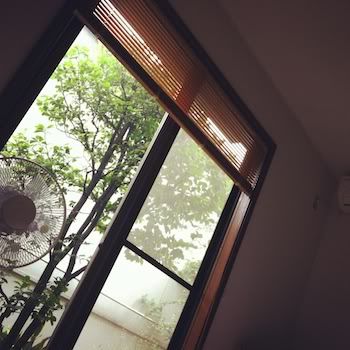 I tend to lull about my futon in the morning — I've never been one of those jack-in-the-box, spring-outta-the-toaster type of person. It was going to be a very busy morning because we had two house guests and lots of errands to run before I head off to New York. Yes, I'll be accompanying the kangaroo on his travels again.
Anyway, I thought it was a rare moment when the early morning pitter-patter on the tree outside our bedroom looked particularly picturesque in its natural lushness.
I snapped a photo of this and hauled my ass outta bed to make omelettes, smoothies, and coffees for three grown men and myself to start the day on the right foot.