Hi my dears, I'm sorry I've been missing from this beloved space. I would say I genuinely felt overwhelmed and it has been crazy busy since my arrival in the US. This article which a friend posted on Facebook made me re-think what it means to be "crazy busy".
This morning, as I was re-tracing my steps for the past three weeks, I don't have overly much to show for it. I've attended all my classes every Saturday and tried to keep up with my other blog. I think I've spent a lot of time on planes and socializing. However, that doesn't reflect it was a meaningless waste of time. I like my friends and spending time with them is a luxury because they don't live in Tokyo.
I have loads of photos and precious moments to share so hang tight, will ya?
This would be my last post about the Japan side of my life for a little while…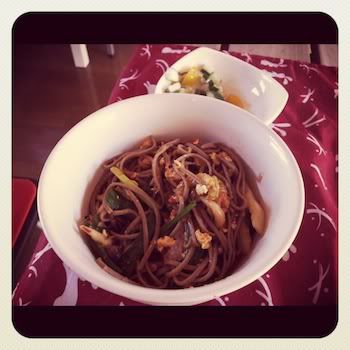 As an expat in the kitchen, I borrow my favourite bits from various cuisines and mash them together. Sometimes they turn out alright but sometimes a real flop. Today's picture exudes a bit of nostalgia for me because I used up the last of my mum's homemade sambal chilli paste which amazingly lasted a little over two months. I only had a small tub of it and I always make sure I use it for time when I crave a spicy kick. I think I could only get another batch early next year on my way back to Tokyo from Sydney. I would be in Singapore in Sept for a few days but it would be on my way to Europe so I can't possibly lug around sambal chilli in my luggage. But it's best to keep this a rare condiment because this is what makes it so special too…
It was a busy day (I need to do something about this!) but I wanted something a bit more hefty than a salad so I whipped up my very own mutt-like stir-fried noodles. I boiled up some pure buckwheat soba noodles (none of that mixed stuff in my pantry!) and tossed it together with garlic, napa cabbage, bean sprouts, shiitake mushrooms, onion, tomato, egg, and a big dollop of sambal chilli — a touch of Chinese, Japanese, and Singaporean. Oh my, it was so tasty and savoury…
Do you cook like that as well — making it up as you go?