The kangaroo really loves this new pound cake I have been baking. I actually got this from a blog but modified it since I don't have the exact ingredients.
100g whole wheat organic flour
3/4 tsp baking powder
40g brown sugar
40g Nutella
2 eggs
50ml rice oil
2 tbs almond milk
2 mashed bananas
I preheat my oven to 160 degress C because mine is a gas oven and it emits really strong heat so for recipes that call for 180 degrees C, I take it down a couple of notches.
In a separate bowl, melt the Nutella by putting it in a bigger bowl of hot water. I also add a tbs of almond milk to the Nutella.
In a mixing bowl, I pour in the rice oil, almond milk, and mashed banana and mix it up with a whisk. Then I sift the flour and baking powder into the batter and whisk again. I dump the melted Nutella into the batter and run a spoon through it. After which, I lift the mixing bowl high up and pour the batter into a glass pound cake mould to create a marbled effect. I bake the lot for 35 minutes since my oven is set at a fairly low temperature.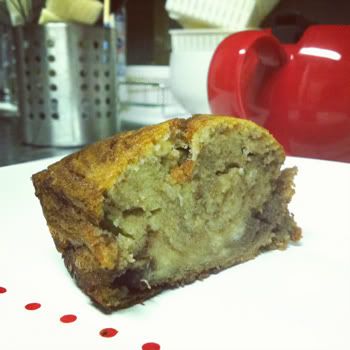 I think I will add more Nutella next time because the bits of the cake which you can taste the Nutella are just absolutely scrummy. This is what I call a baking success. I'm an absolute novice when it comes to baking so I have just been attempting really simple cake recipes.