I spent a week in Singapore and returned to exactly the same weather in Tokyo…#$%&@!!! My non-Singaporean friends are always surprised when I tell them Singaporeans really hate the heat. Yeah, I know, we should be used to it but we're real wusses when it's hawt.
Recently, I was amazed by the number of "cooling" products at my local drugstore. I think this is more of a recent trend because I heard from friends that Tokyo summers were not so scorching a mere 8-10 years ago. And I think this year, there'll be a lot more sweating since we are trying to save electricity thanks to the reduced energy situation at the moment.
I wonder why Singapore hasn't been so inventive when it comes to these keep-you-as-cool-as-a-cucumber products. It gets really f–ing hot in the Little Red Dot, but I suppose, there is freezing air-conditioning indoors so you don't really have to do much to fight the heat. From personal experience: my top and bra could be soaked with perspiration but they would dry up in about 30 min to an hour in the office. I don't think anyone I knew would change in the office due to over-sweating in Singapore (do you?), but here, it's normal to bring out an extra shirt and a small hand towel because indoor temperatures are a steamy 28 degrees.
Anyway, onto the snazzy products I spotted….
A cooling shirt spray where you spritz your shirt before putting it on and it should keep you cool for several hours.
These are Gatsby Body Sheet wipes…though I suppose they are no different from wet wipes for babies and this is just packaged for adults.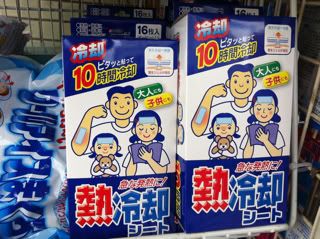 The above picture shows adhesive cooling gel sheets…basically they are mini gel packs that can stick onto the skin for about 10 minutes.
You can use them when you're running a fever, or having a toothache, or nursing a burn, or seeking relief while working or studying.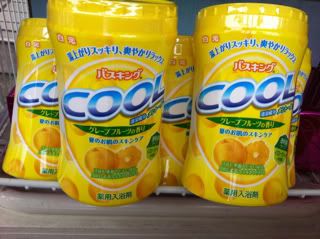 These are cooling bath salts which I kinda don't get. I know it's summer and all but does anyone really want to sit in a cool bath? I mean does tap water get so hot it doesn't feel cool? Even if it's hot out, I still wouldn't want to be in a cold bath. It makes me think of people who are suffering from severe fevers or something…
Okay, this pile of dehumidifiers does nothing for keeping cool but I chucked this one in because I think it really helps to fight mould from sneaking into your belongings in wardrobes and shoe cupboards. I don't even see such horrific mould in hot and humid Singapore!! I just threw out a bunch of bags and shoes because they have gone mouldy from disuse.
I was at a Starbucks today and saw a group of six women simultaneously fanning themselves. I only caught two of them on my iPhone camera but it was quite comical to see them tittering away and fanning themselves furiously. Starbucks is definitely doing its national duty by keeping to the setsuden campaign. My companion bemoaned it was way hotter than her 29 degree C office. Whoo…
So what have you been doing to keep cool?
PS: I really have to get this one off my chest. One of my students cancelled lessons for an indefinite period of time because she has to cover for her co-worker who is depressed. At first, I just thought it was an excuse to quit but she went on to explain her colleague is by nature clinically depressed and has done this before in the past. Apparently, the most recent thing to push him over the edge despite being on medication was that he killed his pet monkey by mistake. He would sleep with his monkey in his bed, and being a small creature (who probably slept too soundly), it got squashed to death when it got rolled on. So now he has been given a long leave of absence to deal with his depression. Bizarre, right? Welcome to my world…