It's seven degrees out, brrrr…. But the sakuras have started to bloom.
On our way back from Hakone (yes, we took yet another trip there, but this time with Mrs Kangaroo in tow), we took the train to Yoyogi-koen station so Mrs Kangaroo could at least stroll through an avenue full of sakuras. She adores flowers so she enjoyed the walk despite the chill.
We were amazed that hanami party-goers sat resolutely under the cherry blossom trees with their drinks and snacks in this weather.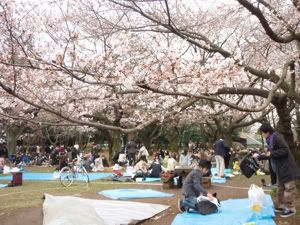 Yoyogi Park wasn't chock-a-block like during the peak of the season, but there were still enough people picnicking to create a happy, lively vibe.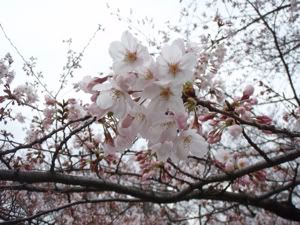 We wanted to show Mrs Kangaroo the Rockabilly dancers but I think even they thought it was too cold to have a session today.
It's been nice having the kangaroo's mum around. I think mothers tend to lend a softer, nurturing touch to things (she just squeezed some Crabtree & Evelyn Summer hand cream on me; "The air is so dry," she mused to me a moment ago) and she's been clucking around the kangaroo and me.
We squeezed in two road trips within 10 days so I have lots to share but am exhausted from lack of sleep and too much activity. But you know, it's a happy type of busyness that I'm enjoying. If you asked me what I was doing this time three years ago, I was actually alone strolling past sakura trees wondering if I would ever get my feet grounded in this sprawling, crazy, complex beast of a metropolis.