Seeing how mournful I was in my last post, I thought I would write about something fun. Things are a little on the rough side in Tokyo but I'm powering on and won't let the small stuff get me down.
One of the things that irritated me no end was my lack of stylish, warm winter wear. I have one light blue fleece from Zara (SGD29.90) that works okay for a chilly 15 degrees. When I put this on, I feel like I'm a Singaporean who's fresh off the boat who doesn't know a thing about winter. The tacky windbreaker feel doesn't help at all. The second one I have is a fire engine red hooded jacket made of some parachute-like material. Also from Zara, the zipper got busted while I was in Hokkaido on a work assignment. It took five days of zipping and unzipping to undo itself. Like the light blue one, this one makes me look like a tourist from a tropical country. There's no warm lining either. I tried on the wool (mixed with some stretchy cloth) turtlenecks I bought at the beginning of this year and the neckline never fails to cling around my neck too tightly. See what you get for paying SGD20 for crap? I've taken to tug at it all day long in class.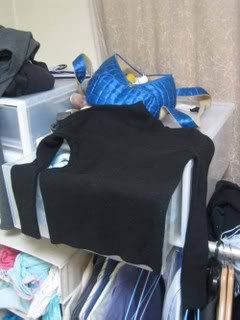 The only gem I have is this beautiful white coat I got from Mango that I'm wearing to death right now. "I've had it," I declared to myself. "I'm sick of looking dumpy."
I took myself to Gap and stocked up on enough cute sweaters and Lycra tops to get through at least a week without wearing the same thing twice. It's so depressing to wear the same top twice in a week. I only had three pairs of thick socks, which I wear one pair at home and one out. You can imagine how much washing I do. Last week I was hesitant because I didn't want to dip into my savings.
Can you believe I got these dirty green ones? I was on a super-tight schedule as I was only told about this work trip two weeks in advance and Singapore has an incredible dearth of great looking winter wear. I also have dull-looking blue ones in the same fashion. So unsexy.
The wind blew through my shivering bones today for the umpteenth time so I decided I should spend the money. What's the use of the cash if I'm too frozen to spend it? It's also another incentive to put the money back.
Ah, the psychology of justifying retail therapy is enough to put a thrill through my spine.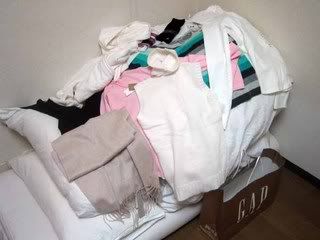 I got cosy, soft togs made of angora (so exotic! I've never worn anything made of angora in my life!), lamb's wool (so foreign!), cashmere (ooo luxury…) and flannel (too comfy). Sorry I'm all exclamation marks but I'm so looking forward to dressing decent for once. Hopefully feeling comfortable on the outside will seep inwards.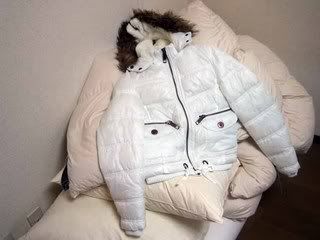 That's my spanking new winter jacket from Zara. I know, why would I get yet another possible dud? Cos it looked so pretty!! Okay I studied it properly and the seams look sturdy to me and one zipper doesn't make all in the shop bad. It's got thick flannel lining too with knit on the cuffs. Kawaii desu ne…