The kangaroo was told that Old Montreal is worth a visit if one only had an evening in Montreal. There are restaurants by the water and all sorts of strange touristy vehicles one could rent — we saw a horse carriage (very Central Park-ish), open-air type trucks that could pack in quite a few seats, and four-person tandem bikes. No kidding!
We chose to walk and took in some lovely sights…
We watched the sun set over the water…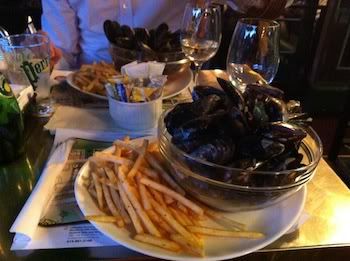 The restaurants were packed in Old Montreal and we chose this one because it had seats. We had enormous bowls of mussels and chips while sitting quietly in our jet lagged state — mumbling ever so often about this or that. 'Tis a comfy marriage when you can eat in silence and not feel like you've lost the romance. Sometimes you just want to munch on food in peace.